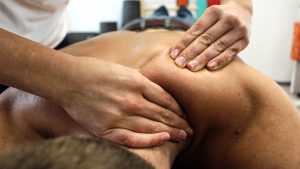 Our sports massage services are delivered by experienced and qualified massage therapists. They all have a degree in Sports Science, Sports Therapy or Sports Rehabilitation, and are registered with the Society of Sports Therapists (SST) or the British Association of Sports Rehabilitators and Trainers (BASRaT).
We specialise in working with clients post injury, ranging from casual sports players and weekend warriors through to professional athletes.
Sports Massage Benefits
Sports massage is an excellent way to speed up your recovery during periods of intense training. It may also be used following an injury. A deep massage has several benefits for your physical and psychological well-being.
Reduce Anxiety – massage creates relaxation which in turn can reduce your anxiety.
Pain Reduction – massage helps reduce tension and releases the bodies natural pain relieving chemicals, reducing your pain.
Relaxation –  it is quite common to feel yourself falling asleep during a massage.